Car owned by
member Tom Hayward
Advertisement
Welcome to The National Corvette Owners Association – The Corvette Club for All Corvette Generations
Since 1975 the National Corvette Owners Association (NCOA) has been the Corvette club for all Corvette Owners. We have grown to be the largest Corvette club in the nation.

Whether you own a Route 66 classic Corvette or a heart-pounding Z06, whether you're a racer, a tuner, a builder, a Corvette collector or just a dreamer, NCOA can provide you with resources, recommended repair shops, services, networking, and special member only benefits such as discounts at Chevy dealers on parts and labor, that will enhance your enjoyment and driving experience of America's favorite sports car, the Chevrolet Corvette. Membership can save you hundreds of dollars! Join Now!
Corvette Forum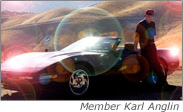 The Vette Forum is here for you, our Corvette members, and others who share the excitement surrounding our favorite sports car, the Chevrolet Corvette. If you have a C1, C2, C3, C4, C5, C6, C7, C8 ZR1 or Z06 question or a great solution to some vexing problem, post it so others can learn from the experience.
In addition, our experts will monitor the forum and add their own answers, opinions and other useful information on a case-by-case basis.
Don't hesitate to use our Corvette Forum! Bookmark it and go there often. Everyone will benefit from the exchange of ideas and your Corvette benefits by being well maintained and ready for the road. Enter Here!