Car owned by
member Tom Hayward
Advertisement
News
ZR1 "Take Home" May Be Over $250,000
June 24, 2008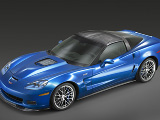 Rumors are circulating through the ranks of Corvette collectors that it might take $250,000 to $400,000 to put a 2009 Corvette ZR1 in the garage, at least when the car first arrives in Chevy showrooms.
With a gas guzzler tax, the car will sticker for $105,000, but retailers are expected to ask a steep premium to actually turn over the keys. According to our sources, even some buyers who placed deposits with Chevy dealers over two years ago are being told that the actual sales price will be more than a quarter of a million dollars!
Chevy will make the 638-hp super Corvette available only through the top 338 domestic dealers. The ZR1's factory retail price is $103,300 and the guzzler tax is $1,700.
Bowling Green factory officials want franchisees to hold to the factory price, but some are already breaking ranks and asking three or four times the official price.