Car owned by
member Tom Hayward
Advertisement
News
Blue Thunder - New ZR1 Due in Detroit
December 29, 2007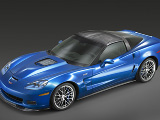 The long-awaited "Blue Devil" Corvette is truly as awesome as the attack helicopter in the movie "Blue Thunder." With 620 hp and a 3.7-second zero-to-60 time. It's the fastest production vehicle that General Motors ever made. What a way to celebrate the corporation's 100th birthday in 2008. The party will begin at the Detroit Automobile Show in January when the centennial year starts and the new, supercharged Corvette - officially called the ZR1 - takes its official bow.
This super-high-performance car (nicknamed "Blue Devil" for a GM execs' college football team) is designed to meet or exceed the fastest, most expensive exotic cars from Europe that sell for much more. With a $100,000 - $116,000 price tag, the ZR1 ain't cheap, but it is when you go comparison shipping against Ferraris and Lambos.
The ZR1 will have a top speed of more than 200 mph. It's motivated by an all-new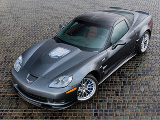 supercharged 6.2-liter 620 hp V-8. It has 19-inch front wheels, 20-inch rear wheels and a performance-tuned suspension that will provide extraordinary cornering grip, according to Chevrolet.
With a carbon fiber hood, fenders and roof for weight savings, the ZR1 is light and agile. Its huge carbon-ceramic brake rotors give it great stopping power, at the same time. The Corvette is simply about performance in all regards.
The ZR1 is currently slated to hit the showrooms this summer.
The ZR1's basic stats:
All-new LS9 supercharged 6.2L V-8 targeted at producing at least 100 horsepower per liter, or 620 horsepower and approximately 595 lb.-ft. of torque
Six-speed, close-ratio, race-hardened manual transmission
New, high-capacity dual-disc clutch
Higher-capacity and specific-diameter axle half-shafts; enhanced torque tube
Specific suspension tuning provides more than 1g cornering grip
Twenty-spoke 19-inch front and 20-inch rear wheels
Michelin Pilot Sport 2 tires - P285/30ZR19 in front and P335/25ZR20 in the rear - developed specifically for the ZR1
Standard carbon-ceramic, drilled disc brake rotors - 15.5-inch diameter in the front and 15-inch-diameter
Larger brake calipers with substantially increased pad area
Standard Magnetic Selective Ride Control with track-level suspension
Wider, carbon-fiber front fenders with ZR1-specific dual vents
Carbon-fiber hood with a raised, polycarbonate window-offering a view of the intercooler below it
Carbon-fiber roof panel, roof bow, front fascia splitter and rocker moldings with clear-coated, exposed carbon-fiber weave
ZR1 -specific full-width rear spoiler with raised outboard sections
Specific gauge cluster with boost gauge (also displayed on the head-up display) and 220-mph speedometer readout
Only two options: chrome wheels and a "luxury" package
Curb weight of approximately 3,350 pounds
Ride and handling
The ZR1 is built on the same aluminum-intensive chassis as the Corvette Z06 and features similar independent SLA front and rear suspensions, with aluminum upper and lower control arms. Where the ZR1 differs is the suspension tuning, which was optimized for the car's steamroller-wide front and rear tires.
Magnetic Selective Ride Control is standard and tuned specifically for the ZR1. The system's ability to deliver a compliant ride with nearly instantaneous damping adjustments enable engineers to develop a surprisingly supple ride quality in a super car that still delivers cornering grip of more than 1g.
From a high-performance perspective, Magnetic Selective Ride Control helps the rear axle remain planted during launch for smooth, hop-free acceleration. It also helps suppress axle movement when cornering on broken or uneven pavement.
Brakes, wheels and tires
Commensurate with the ZR1's engine output is the braking system, which is headlined by carbon-ceramic brake rotors. Found on only a few exotics and more expensive supercars, carbon-ceramic brake rotors are made of a carbon-fiber-reinforced ceramic silicon carbide material. Their advantage comes in low mass and resistance to wear and heat. In fact, the rotors should never show any corrosion or require replacement for the life of the vehicle, when used in normal driving.
The vented and cross-drilled rotors on the ZR1 measure 15.5 inches in diameter in the front and 15 inches in diameter in the rear - making them among the largest carbon-ceramic rotors available on any production vehicle.
Clamping down on the high-tech rotors are six-piston front calipers and four-piston rear calipers, each painted a ZR1-exclusive blue. The front pads are equivalent in size to the largest on any production car with a single-pad design - double that of the Z06's 70-sq-cm front pads.
The brakes are visible through the ZR1's exclusive wheels: 20-spoke alloy rims that measure 19 inches in diameter in the front and 20 inches in the rear. They come standard with a bright Sterling Silver paint finish and chrome versions are optional. The wheels are wrapped in Michelin Pilot Sport 2 tires developed specifically for the ZR1, measuring P285/30ZR19 in front and P335/25ZR20 in the rear.
Exclusive exterior
The ZR1 is instantly recognizable, with perhaps the most identifiable feature a raised, all-carbon-fiber hood that incorporates a clear, polycarbonate window. The window provides a view of the top of the engine's intercooler, with the legend "LS9 SUPERCHARGED" embossed on the left and right sides, and an engine cover with the Corvette crossed flags logo debossed at the front.
The underside of the hood has an exposed carbon-fiber-weave. Exposed carbon-fiber is used on the roof, roof bow, rocker molding and front splitter. These exterior components are protected by a specially developed glossy, UV-resistant clear coat that resists yellowing and wear.
Widened, carbon-fiber front fenders with specific, dual lower vents, and a full-width, body-color rear spoiler incorporating the center high-mounted stop lamp, are also unique to the ZR1. All of the exterior features of the car were developed to enhance high-speed stability and driver control.
Interior details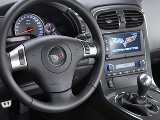 The ZR1's interior builds on the brand's dual-cockpit heritage, with high-quality materials, craftsmanship and functionality that support the premium-quality experience promised by the car's performance. The ZR1's cabin differs from the Corvette and Corvette Z06 with the following: ZR1-logo sill plates, ZR1-logo headrest embroidery, specific gauge cluster with "ZR1" logo on the tachometer and a 220-mph readout on the speedometer and boost gauge added to the instrument cluster and Head-up display.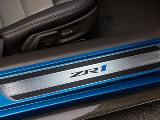 The "base" ZR1 (RPO 1LZ) comes with accoutrements based on the Z06, including lightweight seats and lightweight content. The uplevel interior package includes unique, power-adjustable and leather-trimmed sport seats (embroidered with the ZR1 logo); custom, leather-wrapped interior available in four colors; navigation system, Bluetooth connectivity and more.
By the numbers
In addition to the exterior cues and powertrain, ZR1 models will be distinguished from other Corvette models by their VIN. Each will carry a unique, identifying VIN digit, as well as a sequential build number. This makes it easy to determine the build number of a specific car - information treasured by enthisiast and collectors.